Click here to see more pictures in other room
Genealogy Searches Welcome
Obituraries searches are welcome
Donations are greatly appreciated
Price: $1.00 per printed sheet
Call (607) 563-1425 for info
or click here to email the info
Calendar of Events

Upcoming Schedule

July
Alumni Weekend - July 15th & 16th
Museum Hours 1pm to 3pm
Room 218 Civic Center Liberty Street
All are welcome !

July and August
Volunteers manning the museum are taking a summer break.
Starting July 13th & 14th the museum will only be open by appointment or
by chance each Wednesday and Thursday in July & August.
To make an appointment call Joelene at 563-1425 or Graydon at 563-2542.
Many people have donated used yearbooks to the museum. These yearbooks range from the 1930's to 2013. They are available for purchase for $10 plus $5 shipping. If you are interested in buying a used yearbook call Joelene 607-563-1425, email sidneyhistorical@stny.rr.com, or stop in room 218 of the Civic Center during open hours Wednesdays 4 -6 p.m. and Thursdays 9:30 - Noon to see if we have the yearbook you want.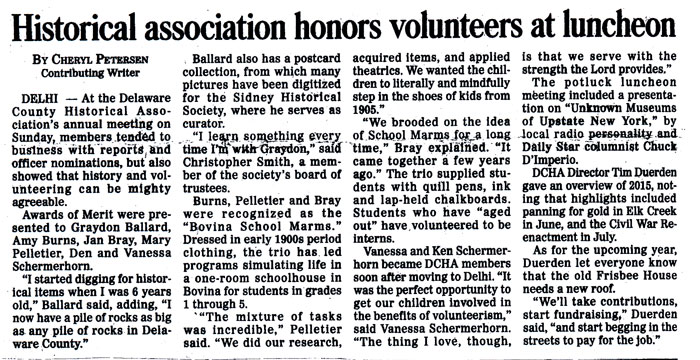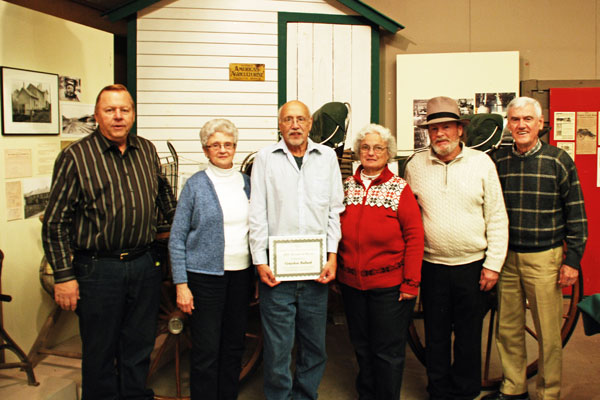 Identified from left to right; Chris Smith, Sue Sklenarik, Graydon Ballard, Irene Ballard, Mike Wood, Charlie McKilligan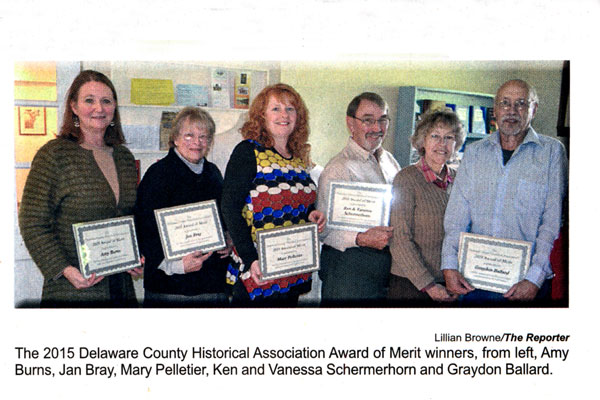 Check back for information on our monthly meetings and upcoming programs!

If you'd like to know more, or have an idea for a program that you would like to see or put on, contact Joelene Cole

---
We need volunteers to man the museum, work on projects,
write for the newsletter, etc. Contact Joelene (607) 563-1425 if you want to sign up.
---
Would you like to become a member of the
Sidney Historical Association?
$5 - Single Student Annual Membership Fee (Yearly Dues)
$10 - Single Annual Membership Fee (Yearly Dues)
$75 - Single Lifetime Membership Fee (One-time)
Donations are also welcome
Click here to print out membership application.
List of current Sidney Historical Association Officers:
President: Office open
Vice President: Joelene Cole
Secretary: Shirley Duval
Treasurer: Bonnie Curtis
Curator: Graydon Ballard
Trustees:
2013 Charlie McKilligan & Irene Ballard
2014 Bobbie August & Erin Pascarella
2015 Chris Smith & Evy Avery

New Items available at the Museum
Books now available:

"The History of the Angel Inn and the Archangel Gabrial in Guilford, NY"
by Thomas Gray, Guilford Historian selling for $10
This books focuses on Guilford Center and the Angel Inn

"Reminiscing Across the Villages, Vols. 1-4"
by Mark Simonson, Oneonta Historian
Check back again for more updates and announcements



Tour Second Room

[ SidneyOnline.com ] [ Local Attractions ] [ Go to Sidney Chamber ][ Virtual Tours ]





© 2011-2015 SidneyOnline.com
Site Design By L & J Consultants
Phone # (607) 865-4263
Email: webmaster@sidneyonline.com